An invitation letter to Canada visa is required for a few visa categories. In a few visas, it will improve the chance to get a visa. While it is a necessary part of the requirements for other visas.
In this blog, we will explain an invitation letter, the visa applicants who need it, how to write one, samples, FAQs, and more.
Get the FREE Cheat sheet for
Invitation Letter for Canada
Video description 
List of eligible countries for eTA. 
IRCC website to apply for an eTA
If a Canadian citizen or resident sends you an invitation letter, the visa application will get easier. Sometimes, the authorities might ask you to provide an Invitation Letter for a Canada visa. It is particularly true with the Canada business visa.
An invitation Letter for a Canada visa is a signed letter from someone you know well in Canada. He/she could be:
Business partner
A friend
Family member
An invitation letter will provide the reason you are traveling to Canada. It will also prove that you are honest about the purpose of your visit. Please note that having an Invitation Letter for a Canada visa does not guarantee receiving a visa.
Who Needs an Invitation Letter to a Canada visa?
If you are eligible for a Canada eTA, you don't need an invitation letter. Applicants need an invitation letter for a Canada visa in the following situations:
An applicant wants to visit Canada for tourism. He/she is not free of Canada short-stay visa.
The visitor is going to apply for a Canada super visa.
An applicant is visiting Canada for business purposes. The visitor is not free of Canada short-stay visa.
Who Can Write an Invitation Letter to a Canada visa?
A person you know well can write an invitation letter. He/she could be:
Parent
Sibling
Spouse
Child
A close friend
A business partner
Please note that your relative must have an official certificate proving the relationship.
The person who writes the invitation letter should provide proof or at least enough reason that the visitor knows. The relationship should be clarified. You can not find any Canadian citizen or permanent Resident and ask him/her to send you an invitation letter. The authorities will check everything and verify whether there is a previous relationship between the visitor and the host. If you have proof that you and the visitor know each other for a long time, you would better provide it.
The one point to remember is that the invitation letter is not a guarantee for the visa. It just can strengthen your application to improve your chance of receiving the visa.
Note: You need to scan the letter and send it to the visa applicant. However, if the letter is notarized, you need to mail it to him/her.
What Info Should the Host Include?
The person writing an invitation letter for a Canada visa must include the following information about himself/herself:
The complete name. It must include first and last names.
Date of his/her birth.
Full contact information:
Email
Phone number
A clear, correct address in Canada.
Residential status; a citizen or permanent resident in Canada. You could do it through:

Canadian Passport or Canadian citizenship card.
Birth certificate. When you were born in Canada, you could provide it.
A copy of the Permanent Resident card or the IMM 1000.
The career you have in Canada.
You must state the names and birth dates of dependents and close family members living with you.
The complete number of people that are living with you. It must also include:

The people who you have sponsored
The person whose sponsorship is still in progress.
Important consideration
While you provide your contact information, ensure that you have written everything correctly and particularly, the spelling. The Canadian authorities often verify the writer's identity and reach him/her. So you should make sure that your phone number or telephone number is written correctly. The same is true with your email address. Even one wrong letter could ruin everything.
The one mistake applicants often make is that they write an invitation letter that is too short. The invitation letter must be long enough to provide all the details about the trip, the host, and the visitor. It must also provide details about who and how will pay for the accommodation and all the costs of the trip. Bear in mind that the host must verify through proof or evidence that he/she is completely able to support the visitor.
While checking the letter, look at the spelling of the names. They must be according to your travel document or passport. Not only the spelling but also the order of the names is important. Look at the sample letters provided below and see what order your names should be.
The signature of the host is also essential and must be identical to his/hers in Canada. The address and postcode must also be written appropriately.
If the host is about to change his/her address, it must be mentioned in the letter and provide the new one if applicable. You would better mention the reason for changing the address and explaining the details. It could be due to a change in job or moving to a new province.
The dates you must include
While writing an invitation letter, there are two essential dates you must include. The first one is the date that the visitor will enter the country. It must be made clear when he/she enters the country and for what purpose.
It is also required that the letter explains the visitor's ties. You need to convince the authorities that the visitor will return to his/her country through proof and evidence. A job contract or permission leave letter from the employer could be reasonable evidence.
The second date is the time that the visitor will leave Canada. If the exact date is not clear, you can estimate the approximate date but you would better provide the exact date. Also, proof of leaving the country on that date is good to convince the authorities to issue the visa. Reserved tickets can be an example.

What Info Should You Include About the Guest?
You must include the following items about the person visiting Canada:
Full name, don't forget middle name if they have one.
The date of birth
Present address and phone number
What is the applicant's purpose in visiting Canada?
The relation that the visa applicant has to the host.
How long will the applicant stay in Canada?
The accommodation and financial means of the person visiting Canada.
The dates the applicant will enter and leave Canada.
How long has the document been issued?
The one thing applicants forget about the invitation letter is the date it has been issued. In the immigration world, most documents that are more than two years old are considered ancient or antique. You would better renue them and get a new one.
Invitation letter for a Canada Super visa
Canada Super visa
got introduced for foreign parents and grandparents to visit their children. As parents stay for longer than six months, an invitation letter is mandatory for a Super visa. There are also more requirements, as follows:
A written and signed assurance that you will cover your parents/grandparent's expenses in Canada.
Evidence or proof to have enough funds to cover the people living with you and your parents/grandparents.
Business Invitation Letter for a Canada visa
If you aim to invite a business partner into Canada to develop business ties, you should send him an invitation letter. It is one of the requirements for a
Canada business visa
. When you receive the Canada invitation letter for a business visa, you need to be careful that the letter must be in the Canadian company's letterhead. The address and contact details of the Canadian company must be written on the letterhead as well. A letter in a simple A4 letter is not acceptable by the authorities and will be rejected right away. Also, a verified authority in the company must sign the letter. Remember that the reason for your visit must be clarified in the letter. If the Canadian company and the guest have had previous relations, such as sales, MOU, or a contract, it's recommended to mention it in the letter. The writer should also verify what goal does the company pursue by their guest's visit.
Do You Need a Business Invitation letter?
When you visit Canada for business purposes and you need a Canada short-stay visa, you need an invitation letter as well. The business people that need an invitation letter include:
Investors
Partners
Employees
Conference visitors
Current or future buyers
Employees coming from abroad to get trained at the Company's Canadian subsidiary.
Information you should include about Business people Visiting Canada
You should include the following information about the business guest visiting Canada:
Complete name
Birthdate
Details about the guest's Company. The post/role he/she has in the Company is also mandatory.
The current address of the Company.
Full contact details.
The business ties between the host company and the guest.
The reason for the visit.
Duration of the stay.
Who is covering accommodation and travel expenses?
When will the visitor leave Canada?
Please note that you have to provide the information on the Company's letterhead.
Business Guest Visiting Canada
The foreign businessperson visiting Canada must enter the following details about himself/herself:
Complete name (please don't forget the middle name if you have one).
Job
The name of the Company
Current address
Website of the Company in case you have one.
Registration date.
A description of the history of the Company and the area they work in.
Do You Have to Notarize Invitation letter?
The visa officer might ask you for a notarized invitation letter. You will know this during the visa interview. It would be better to prepare a notarized one in advance to save time. You could also ask the Canadian embassy in your home country or visit their website to make sure.
What countries might need a Canada Invitation letter?
According to
Globe and Mail
, Canada's foremost news media company, July 14 2021,"the rate of refused applications has been increasing from 35 to 41 per cent between 2016 and 2019". However, the mentioned figures do not include the applicants who have withdrawn their applications. In 2020, the Canadian immigration authorities "processed 7,835 applications and the rejection rate rose to 57 per cent". It needs to be mentioned that the 2020 figures rose by 11 per cent compared to 2019. The published data for the 2021 is even worrying for applicants. Up to Feb.2021, from 4,180 processed applications, 70 percent have been rejected. The rejection figures indicate the importance of strengthening your application. Invitation letter is one of the ways to improve your case and increase the chance of receiving the visa. By statistics, the residents of the following countries would better get as much help as possible and work on their application a lot. They need to make it as strong as possible:
Afghanistan
Haiti
Middle East
Sri Lanka
Albania
Iran
Myanmar
Syria
Algeria
Iraq
Nigeria
South America
Bangladesh
Jamaica
Pakistan
Tunisia
Cambodia
Jordan
Palestine
Venezuela
DR Congo
Laos
Saudi Arabia
Vietnam
Egypt
Lebanon
Somalia
Yemen
Eritrea
Libya
South Sudan
An invitation letter can promote your chance to get a visa and empower it. So don't underestimate the importance of every document you provide.
Note: mentioning the list of the above countries doesn't mean that all applications from these countries will get rejected and an application from the UK will be completely successful. The residents of the above countries need to be extra careful with their application and make it as strong as possible. The rule is true with the applicants from all over the world. 
Invitation letter for parents to visit Canada
A sample Invitation letter for parents to visit Canada is provided here. You can replace the personal information with your and your parents. But be careful not to write to cliche and include some personal story or reason for your parent's visit. Bear in mind that Canadian officials have tools such as Grammarly to check the plagiarism of the letter and it would be bad if you copy the exact letter. To: whom it may concern January 5th, 2021 Re: Letter of invitation for my parents (John Travis and Jannet Travis) This is to verify the support I will provide to the Temporary Resident Visitor Visa application of my parents. My father, John Travis (born Apr 2nd, 1962 passport number K12345678), and my mother Jannet Travis, (born May 3rd, 1970, passport number K12345678) live at Hauptbahnhof, Europaplatz 1, 10557 Berlin, Germany Their home phone number is 123-789-654 I am an international student studying an MA in English literature at Dalhousie University. I completed my BA studies at Mcgill University in 2019. I would like to invite my parents to participate in the graduation ceremony, which will be held on July 11th, 2022, in Halifax. They intend to stay with me for about 3 weeks at my house from July 9th to 31st, 2022. They will be booking their flights to leave Germany on July 6th, 2022. Accommodation and food expenses will be covered by me totally; however, they will cover the other expenses of the trip on their own. You are kindly requested to find the attached copy of your passport and study permit. My date of birth is December 10th, 1991. I live at 3446 Huffington Ave West, Halifax, Nova Scotia, M3E 4Z5. My phone number is 702-456-159-357, and my email address is
[email protected]
. You are highly appreciated in advance for considering my parents' temporary resident visa application. Sincerely Thomas Muller Schmit
Canada invitation letter sample for visitor visa
After the COVID-91 pandemic, there are more applications for the IRCC to process. So It is with the visitor visa and it's normal to expect the rate of rejection to increase. Canada invitation letter sample for visitor visa permits you to get familiar with a common standard letter to increase the possibility of receiving the visa. You can have a plain view of what an invitation letter looks like by looking at the sample below: Ontario, July 27, 2020 To the Canadian Embassy in Beijing China 19 Dongzhimen Outer St, Chaoyang, Beijing, China +86 10 5139 4000 Subject: Invitation Letter for Mr. Jin Jin Dear Sir/Madam, My name is Jin Ling, I was born on Jan 10, 1991, and I am from Toronto. I am a Canadian citizen, and I live in Suite 1450, 220 Laurier Avenue W., Ottawa, Ontario, Canada. My household has no one living with me, and I work for M&Tech, earning C$ 25.000. Through this letter, I am inviting Jin Jin, born on Aug 25, 1995, and currently living in 17 Dongzhimen Outer St, Chaoyang, Beijing, China, to Canada for a short stay. Mr. Jin Jin will be staying in Suite 1450, 220 Laurier Avenue W., Ottawa, Ontario, Canada, from July 30, 2020, until Nov 30, 2020. I am Jin Jin's brother, and we will be visiting and touring around Canada for two months in different locations. Jin Jin currently works as an engineer, earning C$ 3500 with which he will be able to afford the stay in Canada. Jin is a genuine visitor who will not overstay his visa. His work obligations in Beijing R&D extend, and Mr. Jin is needed back to work as soon as he returns from Canada. You are kindly informed to find the certified copy of my Permanent Residence card and my bank report for the past 6 months. You are also requested to contact me should you have any further questions regarding myself or Mr. Jin Jin. I look forward to having Mr. Jin Jin visit me in Canada so we can spend time together and visit Canada. Kind regards, Jin Ling Suite 1450, 220 Laurier Avenue W., Ottawa, Ontario, Canada. +1 613-789-3434 Ling
[email protected]
                 Signature
Invitation letter Sample 2
The photo below provides another sample to write an invitation letter for a Canada visa: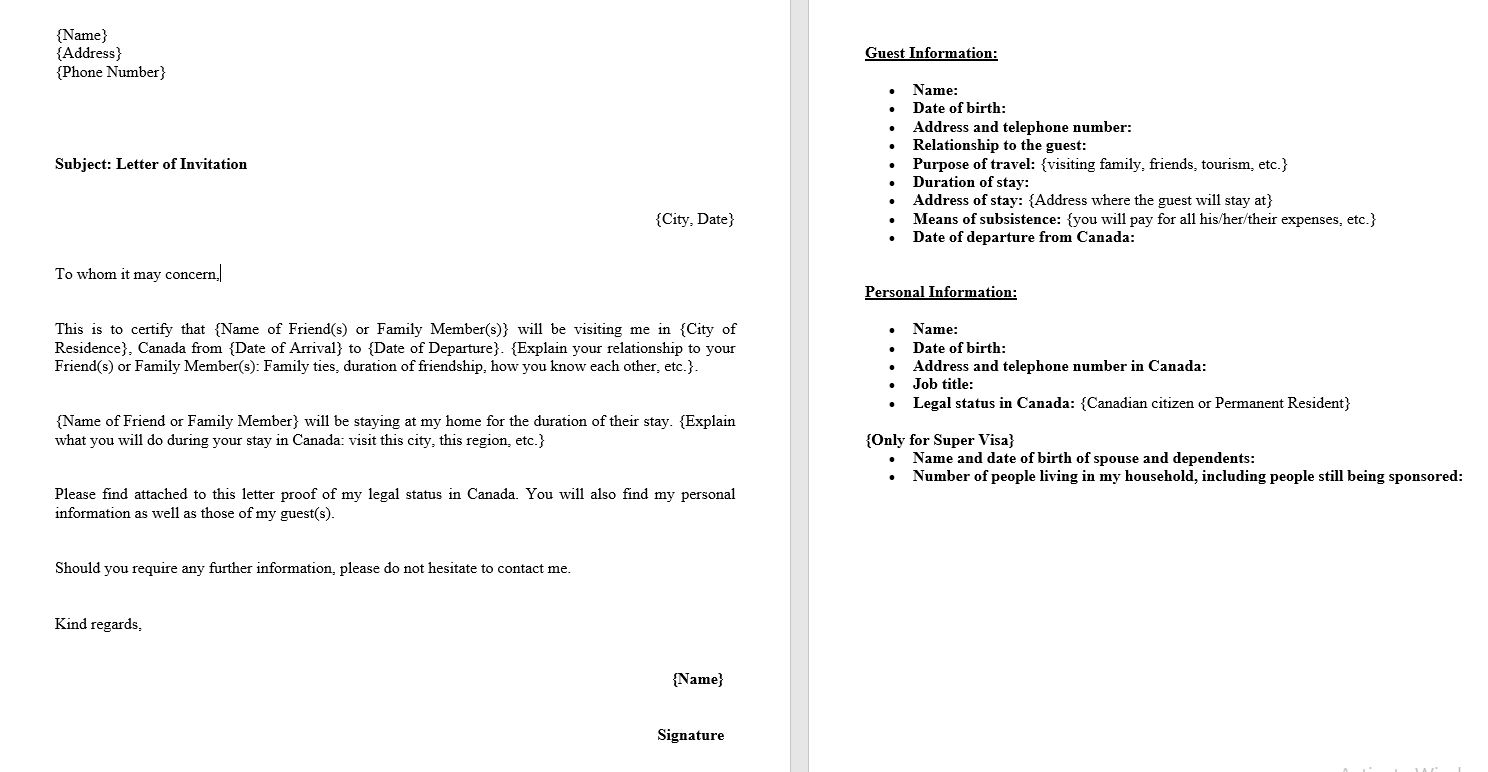 Canada super visa invitation letter sample
The following is a Canada super visa invitation letter sample. The super visa is for parents or grandparents to visit their child in Canada for the long term. The person who visits Canada under a super visa can stay in the country for up to two years, which is much longer than the visitor visa which permits you the parents or grandparents to stay in the country for about six months. 
The person living in Canada must provide an invitation letter and explain how long the visitor's will stay and for what reason. The following Canada super visa invitation letter sample permits you to write a successful one and get familiar with the common reasons mentioned in the letter.
Dear Sir or Madam,
This is to verify that my grandparents, Mr. Hamza Akbari and Mrs. Ayeza Abbasi, will be visiting me from January 5,2023 through April 15, 2023 in Halifax, Nova Scotia, Canada. They are the residents of Iran, Islamic Republic, and are retired as teachers from the Department of Education. 
My grandfather, Hamza Akbari, was born in Tehran the capital city, Iran on February, 14, 1953 and my grandmother, Ayeza Abbasi,  was born on June, 20, 1955 in Isfahan city. They are both the Iranian citizens and live at the following address:
Apartment 25 
Floor 5 
Golestan building 
Azadi Avenue 126 
Tehran, the capital city, Iran 
Post code: 3154117451
Their phone number is: 0098 32-23-49-23
They will be staying with me in the city of Halifax until April 15, 2023 when I will take them personally to the Porters Lake Waterdome airport to fly to Iran. They will be visiting to stay with me during the Nowroz, Persian New Year, and my birthday. They will also attend my marriage ceremony which will be held in the local church. They are looking forward to seeing my marriage ceremony as I had lived with them for four years during my Bachelor's degree. You are kindly informed that we will be visiting our relatives in Vancouver and Toronto on the weekends and pay a visit to other tourist attractions in the country. 
My address is:
Muir
2811 Lower Water St
Halifax, NS, Canada 
My phone number is:
1.833.888.1011
My cellphone number is:
902.407.6847
You are kindly informed that I am a translator working for Wise Advertisement in theri business and foreign relation department. I live on my own in a rented apartment on 2811 Lower Water St in Halifax. My name is Ali Akbari, and I am 30 years old. I was born on December 12, 1991 in Isfahan, Iran, and I am a permanent resident of Canada, where I have lived for the past five years. 
As mentioned before, I live on my own, and have only sponsored my parents two years ago. They left Canada on the scheduled date. 
Best regards
Signature 
Ali Abbasi 
Canada invitation letter sample to a close friend
To whom it may concern,
This is to verify that
Kıvanç Ulusoy
will be visiting me from May 20, 2023 through September 1,2023 in Quebec, Canada. Kıvanç is a close friend who I met four years ago before the COVID-19 pandemic in Turkey. He hosted me for two weeks in his own house in Istanbul and showed me the whole area. We also visited Germany together the following year. He will be coming to visit me in my home in Quebec city.
My guest Kıvanç Ulusoy was born in Istanbul, Turkey on August 16, 1989 to an originally Arab father named Adel Yousef and a Turkish mother named hande Özdemir. He holds an EU passport and lives in Istanbul as a tour guide at the following address:
Apartment 22
Floor 6
Navastia building 
Libadiye Caddesi, 
Ünalan,
Üsküdar
His phone number is: 0090- 666-3387-9321 
We will be visiting a Turkish festival being held in Quebec and Kıvanç Ulusoy will have the cancer to introduce the Turkish culture and traditions to the Canadian people. Then, we will enjoy mountain climbing. My friend also will look at the tourism opportunities of Quebec city and consider bringing Turkish to the city as tours. 
My address is:
69 Saint Louis street, 
G1R 3Z2, 
Québec, QC.
My phone number is:
+1- 312-693-448- 
I am an English and French teacher working in Quebec school. I won my 2-bedroom home at 69 Saint Louis street,G1R 3Z2, Québec, QC. and live alone there. My name is Charlie Jackson, and I am 35 years old. I was born on April 17, 1983 in Vancouver British Columbia and I am a Canadian citizen. 
As I mentioned, I live alone in my house and have never sponsored anyone.
Kind regards,
Signature (host not the guest) 
Canada business invitation letter sample
A Canada business invitation letter sample is as follows for the companies and corporations:
From,
Martin Jacobs 
The CEO of Wise Technical Mining Advancement, LLC 
Vancouver, British Columbia, Canada 
Date: 20th May 2022
To,
Ahmad Najib Ehsan 
Mining Dubai . CO.
UAE 
Subject: Letter of business invitation for attending and Exhibition on technological Advancement 
Dear Sir,
I intend to invite you on behalf of  Wise Technical Mining Advancement, LLC to participate in our exhibition of new technologies in Vancouver on 13 June 2022.
It will be our pleasure to have you as one of our guests and introduce the new technologies and advancements in the mining field as you have always been one of our good clients for a long time. You are nicely requested to visit as early as possible so we can provide the best hotel as early as possible. You are requested to inform us if you are coming or not. 
We hope you honor us with your presence and develop another sale of Mining equipment to the United Arab Emirates. The last contract was beneficial for both companies and the nation. 
Thank You 
Looking forward to hearing from you soon 
Sincerely Yours 
Martin Jacobs, CEO 
Signature 
Notarized invitation letter for Canada visa
Whether you need a Notarized invitation letter for a Canada visa is up to the visa officer's decision. Depending on your nationality, duration of stay, hots' conditions, and background, the officer might require you to notarize the letter. A lawyer of officials in your home country need to notarize the letter. The Canadian embassy could require you a notarized letter from a specific lawyer or from officials of a certain governmental organization. You would better ask them to know what you have to to.
Sponsorship letter Canada
When foreign students want to study in another country or Canada, they need to provide proof of enough funds to cover expenses in the country. If they have a sponsor, such as parents, they need a sponsorship letter from them. It verifies that who and how they will pay the costs and from what source. The sponsorship letter could overlap to a large extent with an invitation letter. So you need to include almost the same information for both the sponsor and the person who receives the supports. When writing the letter, mention the purpose of the visit, whether it is education or just visiting. The dates the person will visit the country, leave, and exit needs to be clarified. Contact details and the address of the sponsor and visitor should also be mentioned. A sample of the sponsorship letter for Canada is as follows: 15th December 2021 Ahmad Izmir 220 apartment, İstiklal Avenue, Istanbul, Turkey +90357-753-258 Subject: Sponsorship letter for Erdogan Izmir To: whom it may concern, My name is Ahmad Izmir, currently residing in Istanbul at the mentioned address; and I am a citizen of Turkey. This letter is to verify that I, Ahmad Monfred, confirm my sponsorship for Erdogan Izmir, supporting my relationship with the student as the father. Erdogan Izmir will be studying at Sherbrook University for the duration of four years. He will be visiting Canada for years during a BA program from September 2022 to November 2024. You are kindly requested to find the attached list of documents and bank statements as proof of my financial capacity to sponsor my son and support Erdogan Izmir for a minimum of CA$75.000. These funds will replenish and cover his expenses, including food, rent, tuition fees, clothing, transportation, and others. You are kindly requested to contact me, for I will gladly extend my help in the best possible manner. Sincerely, Ahmad Izmir 220 apartment, İstiklal Avenue, Istanbul, Turkey +90357-753-258 Ahmad
[email protected]
Canada visa without invitation letter
Many people ask whether they can apply for a Canada visa without the invitation letter. The answer depends on the purpose of your visit. If you will be visiting a friend or family member and that is your sole purpose to visit the country, the government might ask you to provide an invitation letter from the host. If the authorities do not require one, you do not have to provide the letter. An invitation letter from some Canada visas is not mandatory, but for some, it is. For instance, you need the letter for Canada super visa and business visa as the purpose of the visit is to stay with the relative or do business with a Canadian citizen. If you indicate that the sponsor will provide the financial support for your stay, you are likely to receive your visitor visa.
Let's sum up…
In this blog, we explained all the general information you need to know about the Invitation letter for a Canada visa. We explained why you need an invitation letter for a Canada visa, the groups that need it, how to write one, and the information you should include. You can check the Visa Library to find more information about other countries' visas. In case you have some experience, please write it down in the comment section. Your comments let the readers choose better and avoid mistakes. Conveying your experiences as comments is a great help for applicants.
FAQs
Who can write a Canada invitation letter?
Your close family member or a friend can write the invitation letter for you.
Can a student send you an invitation letter?
Not, the person must be a PR or citizen to send an invitation letter.
Is it mandatory to have a Canada invitation letter?
If you don't have a strong travel history, yes.
Is there an instruction to write an invitation letter?
You can use the samples in this article to write one. Change the body.