Because of its robust economy and advanced medical facilities, Qatar is a popular immigration destination for medical professionals. Learn everything you need to know and immigrate to Qatar as a doctor successfully by reading this article.
How to Immigrate to Qatar as a Doctor?
How to work as a foreign doctor in Qatar? There are two major pathways to moving to Qatar as a doctor and getting a Qatar work visa: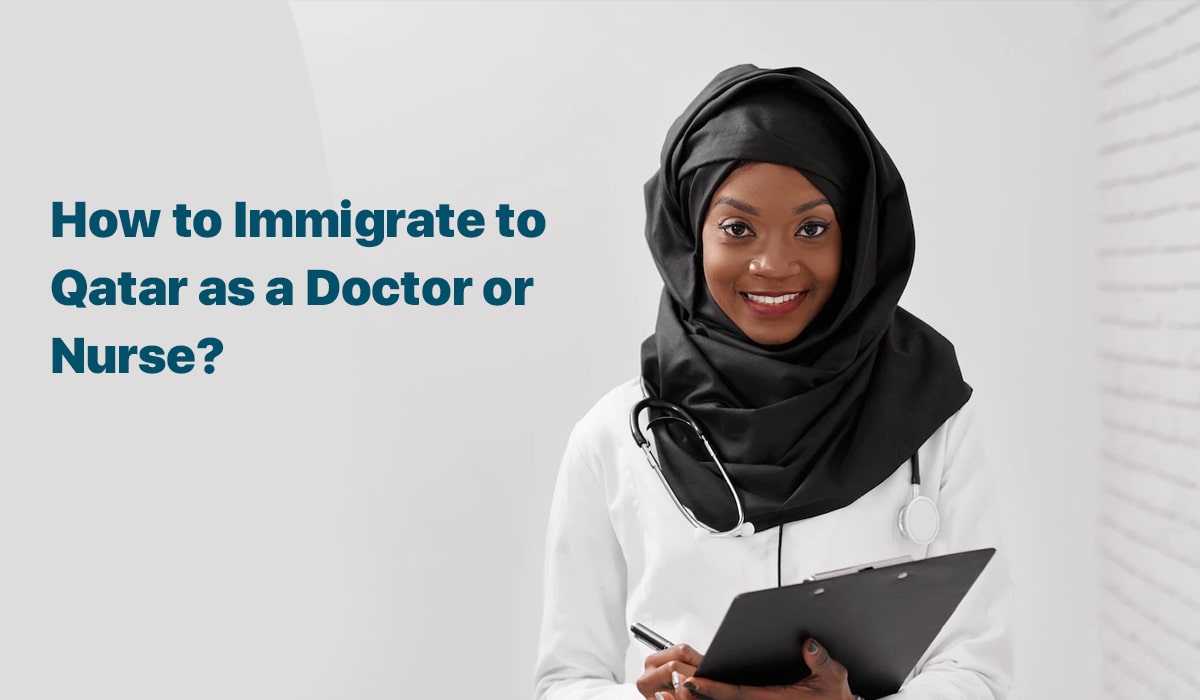 The First Way to Immigrate to Qatar as a Doctor:
Experience Requirement. You need at least five years of clinical experience after finishing your degree. Your work should have some bearing on your chosen area of medicine.
PROMETRIC Exam. As mentioned, the PROMETRIC test is a clinical and knowledge examination. You may be exempt from taking the PROMETRIC exam if you have already passed an equivalent exam, such as the USMLE or the PLAB for the UK.
Document Verification. The DataFlow Group typically handles the document verification process. DataFlow verification begins with an online application on the DataFlow Group's website, where an account is created, and the appropriate service is chosen based on the applicant's line of work and the country of origin of the supporting documents. Your credentials, such as diplomas and certifications, must be verified. The DataFlow Group checks your credentials carefully to ensure their validity and accuracy. When they're done, you and the Qatar Council of Healthcare Professionals (QCHP) will receive an updated report on the standing of your documents. The QCHP reviews this report to guarantee conformity with its licensing requirements.
QCHP License. Provide the Qatar Council for Healthcare Practitioners (QCHP) with your verified documents, application form, and applicable fees once you receive your DataFlow report. The QCHP carefully examines your credentials and supporting materials during the application review process. The Council makes every effort to review applications quickly, but processing times may vary. A QCHP license is mandatory for practicing medicine legally in Qatar, and you will receive one once you are approved and have met all requirements. Maintaining your medical license in Qatar requires that you stay abreast of and abide by the country's healthcare rules and regulations, including continuing medical education (CME).
Job Seeking. There are several places online where you can look for work, including general job boards and regional ones like Bayt.com and Qatar Living. You could also try contacting agencies that focus on finding jobs for people in the healthcare industry in Qatar. If a healthcare organization is interested in hiring you, they will handle the visa sponsorship and other administrative details.
The Second Way to Immigrate to Qatar as a Doctor
Residency Pathway. Pursuing a residency program in Qatar offers another avenue to practice in Qatar as a doctor.
Language Proficiency. A score of 7 or 7.5 on IELTS is generally accepted as meeting language requirements. This demonstrates your command of English, which is typically used as the medium of instruction in academic programs related to the medical field.
Medical Exams. You'll also need to take and pass the USMLE Step Two CK (Clinical Knowledge) or the IFOM (International Foundations of Medicine) exams in addition to the language requirement. In place of the USMLE Step 2 CK, the IFOM is used in Arab countries.
Graduation and Clinical Gap. Medical school graduation within the past five years and a clinical gap of no more than one year are requirements for residency programs in Qatar.
Residency Application. The Hamad Medical Corporation (HMC) and other hospitals and clinics in Qatar offer residency programs for medical professionals. To apply for a residency position in their medical school, you must follow their application guidelines and fulfill their requirements.
How to Become a Doctor in Qatar?
If you want to become a doctor in Qatar, you can do so by attending school there.
Preparation. Ensure you graduate high school with high grades, especially in science classes.
Bachelor's Degree. Apply to a Qatari medical school or enroll in a medical program at a Qatari university. The College of Medicine at Qatar University is one local institution that caters to the medical field.
Medical Education. Get through medical school, which consists of classroom study and hands-on experience in various medical specialties.
Internship and Residency. After completing your medical degree, you must complete an internship and, if applicable, a residency. Thanks to these opportunities, you'll gain hands-on experience, focus on your area of interest, and learn about the healthcare system in Qatar.
Licensing Exams. The PROMETRIC or an equivalent exam may be required upon completion of your training to obtain a license in Qatar.
Licensing. Submit an application to the Qatar Council for Healthcare Practitioners (QCHP) or other relevant authority detailing your education, training, and exam results.
Compliance. Adhere to professional standards, maintain compliance with CME requirements, and renew your license if needed to practice medicine in Qatar.
Seek Employment. You can start your medical career by applying for jobs at public or private hospitals in Qatar.
Continuous Learning. As Qatar's healthcare authorities mandated, you must commit to continuing your education and practicing at the highest possible level.
Skills Required to Immigrate to Qatar as a Doctor
Performing professional duties ethically and safely.
Patient Care. Patient care that is compassionate and effective.
Practice-based Learning. Learn and improve medical practices with dedication.
Medical Knowledge. Patient care based on strong medical knowledge.
Patient, family, and healthcare professional interpersonal and communication skills.
What Qualifications and Documents Do You Need to Apply for a Doctor's Job in Qatar?
To work as a doctor in Qatar, you must have the following qualifications as a doctor:
Diploma and transcripts for medical school.
A license issued by your home country.
With no more than a six-month break in experience, at least five years of work experience is required.
Updated CV.
Police clearance from the home country.
Recommendation letter from a previous employer.
You and your family members' passports (if applicable).
Certificates of marriage and birth of children if accompanying.
Taking a formal photo against a white backdrop (45mm x 35mm).
Get a passing score on the PROMETRIC test.
English proficiency or IELTS score.
The following qualifications are preferred: CCT or equivalent, two years of postdoctoral experience, or one year with a fellowship.
| | |
| --- | --- |
| Facharzt (German) | Swedish & Denmark (BEVIS) |
| CIS/DES (French) | Australian or New Zealand Fellowships |
| Ireland (CSCST) | Switzerland (Specialist qualification from the FDHA or master of advanced studies) |
| American / Canadian Board Registration | Italy (Diploma de Medical Specilista/Medcinagenerale) |
| Finland (CST) | Singapore (JCST) |
| CCT/CCST | European Board |
Note: In certain specialties, female physicians are preferred. Also, please remember that all documentation you submit or carry with you to Qatar must be in English or Arabic.
Is Qatar Good for Doctors?
Medical professionals may find work in Qatar. It has a growing healthcare sector, competitive salaries, and modern hospitals. Qatar's commitment to learning and discovery opens advanced career paths. Preferences, work-life balance, and cultural adaptability determine whether working as a doctor in Qatar is a good fit.
Can a Foreign Doctor Work in Qatar?
There is no restriction on foreign doctors working in Qatar. To practice medicine legally in Qatar, they must follow certain requirements and processes. We will talk about them in detail in the coming sections.
What is the Exam for Doctors to Work in Qatar?
To practice medicine in Qatar, medical school graduates must take and pass the PROMETRIC exam. Internal medicine, obstetrics, gynecology, pediatrics, psychiatry, and surgery are just some of the specialties covered by the exam. The licensing standards of Qatar determine the precise set of qualifications and requirements.
Visit PROMETRIC.com, which lists over 160 testing locations worldwide, to register, schedule, and pay for the exam. The minimum required score to pass is 60% on a 100-question multiple-choice exam. The exam can only be taken if taken in English.
How Can I Register as a Doctor in Qatar?
To immigrate to Qatar as a doctor, you need to undergo the process of registering as a doctor in Qatar:
Make sure your medical degree is properly accredited to meet educational requirements.
Assess your medical knowledge and experience by passing a licensing exam like PROMETRIC.
With a service like the DataFlow Group, you can validate your diplomas and work experience.
Complete the DHP application and submit it with the required fee.
DHP reviews medical regulations in Qatar to ensure your credentials are compliant.
Provide specific restrictions with a provisional license if approved.
The QCHP should be contacted to process your preliminary license if needed.
You must comply with the rules and regulations of QCHP before your application is approved.
You will receive your full medical license once the QCHP grants final approval.
Maintain high ethical and professional standards while adhering to Qatar's healthcare laws.
How Can You Sign Up with the Ministry of Public Health?
Health professionals wishing to work in Qatar must submit a medical license application or renewal online to the Ministry of Public Health.
Access the Medical Licensing Registration System by logging in.
Click the Sign Up for New Applicant button. Fill in your email address and password to create an account.
After submitting the form, access your email and activate your account
Log in to your newly established account and select "apply for assessment." Before submitting your application, ensure you complete all the information, upload all the necessary files, and then print the payment receipt (if applicable).
Pay applicable fees online.
Immigrate to Qatar as a Doctor: Salary
What is the salary of a doctor in Qatar? In Qatar, a physician's salary can vary widely depending on their years of practice, their area of specialty, and the healthcare organization they work for.
Highest Salaries. The monthly salary of some senior doctors in specialized fields can exceed 40,000 QAR.
Lowest Salaries. Newly qualified physicians or those with less experience may begin their careers with salaries of around 15,000 QAR per month.
Average Salaries. MBBS doctors in Qatar can expect monthly salaries of around 20,000 QAR up to 30,000 QAR.
MBBS Doctor Jobs in Qatar Salary
Depending on experience and credentials, MBBS (Bachelor of Medicine, Bachelor of Surgery) doctors in Qatar can earn salaries of 15,000 QAR to 40,000 QAR per month or higher. Employers may also provide perks like housing assistance, medical insurance, and paid time off.
Hamad Hospital Qatar Doctor Salary
Salary ranges for doctors at Hamad Hospital in Qatar are competitive, starting at 15,000 QAR per month and going up to 40,000 QAR per month or more for specialists. Experience and education level are two examples of variables that can affect salary.
Ministry of Health Qatar Jobs for Doctors
Many job opportunities are available for doctors at the Ministry of Public Health in Qatar. Various medical specialties are represented in these positions, found on the ministry's official website or other job portals. Here are some common job positions for doctors at the Ministry of Public Health in Qatar:
Medical practitioners
Consultants
Resident medical officers
Clinical researchers
Public health professionals
Average Working Hours for Immigrant Doctors in Qatar
Weekends are held on Fridays and Saturdays, as in most other Middle Eastern nations. As a doctor, you must typically work 8-10 hours daily from Sunday to Thursday. Many healthcare institutions use rotating shifts, providing employees one or two days off weekly.
Can Pakistani Doctors Immigrate to Qatar?
Pakistani physicians could not practice in Saudi Arabia and a few other Arab nations since the country's MS (Master of Surgery)/MD (Doctor of Medicine) post-graduate program has been de-recognized. Hundreds of trained Pakistani physicians would be laid off due to the move. However, according to a Dawn report on Wednesday, some have been fired or told to prepare for deportation.
Other Arab nations, including Qatar, the United Arab Emirates (UAE), and Bahrain, have de-recognized Pakistani medical programs in response to Saudi Arabia's move. However, according to the research, the Saudi Health Ministry hired the most impacted Pakistani physicians in 2016 when it held interviews in Karachi, Lahore, and Islamabad.
Immigrate to Qatar as a Doctor from India
A medical degree from a recognized university, post-graduate clinical experience, and possibly examinations like the PROMETRIC or equivalent are typically required to immigrate to Qatar as a doctor from India. The QCHP is responsible for the licensing of healthcare professionals in Qatar. Online resources and job position companies both facilitate the search for suitable employment. It is important to check with QCHP and the appropriate authorities to ensure compliance with the most up-to-date immigration policies.
Immigrate to Qatar as a Doctor: Let's Recap
Medical practice in Qatar is an exciting and rewarding field to enter. You can immigrate to Qatar as a doctor and join the thriving medical community there by following the outlined steps and being proactive in your pursuit.
This article explained how you can immigrate to Qatar as a doctor or a nurse. If you want to know more about other ways to immigrate to Qatar with other careers, check out the list on the right sidebar.
FAQs
How do I move to Dubai as a doctor?
Finding work in the healthcare sector after moving to Dubai as a doctor and meeting licensing requirements.
How can I move to Qatar as a Doctor?
Apply for positions in the medical field in Qatar and fulfill licensing requirements.
Ministry of Health, Qatar jobs for doctors?
Medical institutions and the Ministry of Health have job opportunities for doctors in Qatar.
Is Qatar a good country to study medicine?
There are excellent universities and healthcare facilities in Qatar, making it an excellent place to study medicine.
Can Filipino doctors practice in Qatar?
If Filipino doctors meet the licensing and qualification requirements, they can practice in Qatar.
What is the salary of a general surgeon in Qatar?
Generally, Qatari general surgeons earn between $9,000 and $16,000 a month, which is competitive.