How does living in the country with the second-highest life expectancy in the world sound? It's great, and there are lots of opportunities waiting for you. A highly developed economy that is improving and welcomes skilled workers. It is the country where you can build your future there. If you want to immigrate to Japan as a doctor, you will find the answer to all your questions on this page.
Get the FREE Cheat sheet for
Immigrate to Japan as a Doctor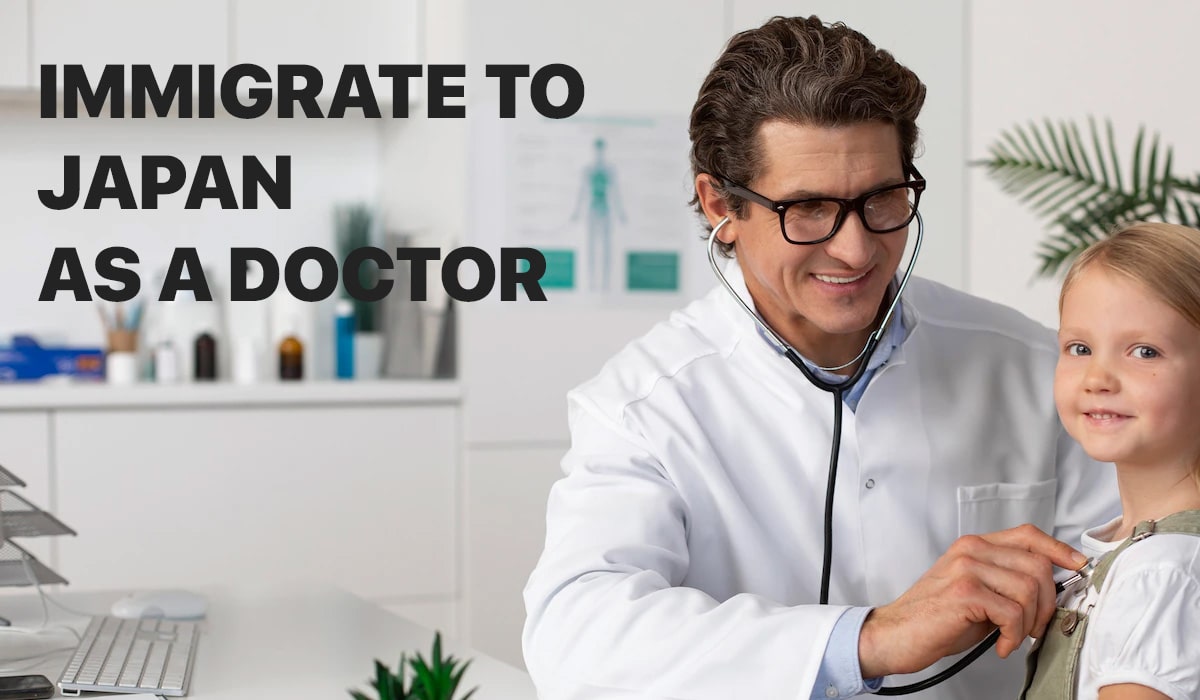 Step 1. Qualify as a Doctor
A medical degree (typically an MD or equivalent) and specialty or subspecialty certifications may be necessary to work as a doctor in Japan. Post-graduate degrees, board certification, and specialty-specific training are all valid examples of such credentials in the medical field.
Step 2. Eligibility Verification
Suppose you want to immigrate to Japan as a doctor. In that case, you must verify your qualifications by contacting the Ministry of Health, Labor, and Welfare, submitting your curriculum vitae and academic records, and waiting for an evaluation. Your eligibility will be determined after the Ministry evaluates your credentials and language skills. You will hear back from them about your eligibility and next steps.
Step 3. Language Proficiency Test
Pass the Japanese Language Proficiency Test (JLPT) at the N1 level to demonstrate your language skills. The index determining your fluency in Japanese fluency is N5-N1; while N5 is the easiest and first level you achieve, N1 is the hardest and last. Here is a useful understanding of the levels and the index of fluency:
Step 4. Residency Matching
The first step in arranging a medical residency is researching and comparing hospitals. Place, salary, reputation, and other factors should be considered. Meet with hospitals of interest, schedule interviews, and arrange meetings. Register with the Japan Residency Matching Program (JRMP) to begin the matching process.
Step 5. Residency Program
To become a part of a Japanese residency program as a doctor, you must first find one appropriate for your medical specialty. If you cut, the next steps are an interview, an offer letter, and a pairing process. Clinical rotations and supervised practice are included in the multi-year curriculum. A passing grade is required to practice medicine in Japan.
Step 6. Board Certification
After completing your residency, you must apply for board certification from the Japanese Association for the Accreditation of Medical Facilities. Doctors in Japan must obtain board certification. You must pass the Japanese Medical Specialty Board Exam after completing your residency program in your chosen specialty. Practice exams and study materials are part of the preparation process. When you become board-certified in Japan, you qualify as a specialist and can practice independently in various settings.
Step 7. Medical License Application
To practice medicine in Japan, doctors must apply for a medical license. An applicant must verify eligibility, gather necessary documentation, contact local medical authorities, submit an application, and possibly undergo additional examinations. The evaluation process includes background checks, and if successful, you will be granted a medical license. During the early stages of your medical career, you may be subject to practice supervision.
What is the Japanese Medical License Exam?
A foreigner who wishes to immigrate to Japan as a doctor is required to pass the Japanese Medical License Exam, a challenging and comprehensive test. Among the many steps necessary, taking a language test and passing the Japanese National Medical Practitioners Examination are prerequisites. The ability to speak Japanese fluently, preferably at the N1 JLPT level, is essential. Details and prerequisites for each exam may be different.
Can a Foreign Doctor Work in Japan?
Yes. Foreign doctors can work in Japan, But they must send their medical degrees to Japanese officials. They evaluate the documents and decide whether foreign doctors are qualified to work in Japan.
Are Doctors Well-Paid in Japan?
There is no doubt that doctors in Japan are generally well paid, with incomes varying depending on factors such as specialization, experience, and location. Salary levels tend to be higher for specialists and experienced workers.
Immigrate to Japan as a Doctor: Salary
You might ask, "How much does a doctor make in Japan in Yen?" Let's see. The average salary of a doctor or physician in Japan is around 1,190,000 JPY. There is a salary range of 444,000 JPY to 2,040,000 JPY.
Can a US Medical Doctor Work in Japan?
Yes. By obtaining a Japanese medical license, US doctors can work in Japan. As part of this process, candidates must pass the Japanese National Medical Practitioners Examination, obtain employment, and meet visa requirements. An N1 JLPT level of proficiency in the Japanese language is vital.
Is Japan a Good Place for Doctors?
The answer depends on you and your preferences. Japan is one of the safest countries in the world, and it has the third biggest economy. The country is advancing and improving in every field and has become a leading country. In terms of medicine, it's one of the best in the world, and doctors are needed. The job market is good for skilled doctors as well.
Doctor Jobs in Japan for Foreigners
What jobs are in demand in Japan for foreigners? Let's look at them:
Medical Practitioner
Researchers in Medical Institutions
Pharmaceutical Industry Positions
Medical Consultant or Advisor
English-speaking Medical Interpreter
Clinical Trial Coordinator
Medical Sales Representative
Medical Writer or Translator
Healthcare Administrator
Medical English Teacher
Medical Residency in Japan for Foreigners
Foreign applicants for medical residency in Japan face intense competition and usually need to demonstrate advanced Japanese language skills. Different residency programs range from two to five years and include various medical fields. Tests of language competence and medical licensing exams are common requirements for international applicants. The Japanese healthcare system is well regarded for its high standards and intensive training for its citizens.
Living expenses may add up quickly, especially in major cities like Tokyo. Foreign nationals may have difficulty obtaining scholarships and other forms of financial aid. As a foreigner, you need devotion, language skills, and a commitment to meeting tough requirements if you want to do a medical residency in Japan.
How to Become a Doctor in Japan?
The other way to immigrate to Japan as a doctor is to study for a medical degree in one of the Japanese universities.
Get a bachelor's degree in medicine or pre-med. In Japan, this program lasts six years.
Learn Japanese to near-native fluency.
Pass the Japanese medical proficiency test, which tests patient history-taking, physical examination, and Japanese communication. Passing scores must be 60%.
Take the national medical board exam. It has 400 questions in six blocks. Internal medicine holds the most weight, with additional sections in public health, pediatrics, and OBGYN.
Find hospitals, visit them, and interview for a medical residency or training program. You must pass Matching to proceed.
Finish your two-year residency program.
After residency, you can apply for the Japanese Association for the Accreditation of Medical Facilities board certification.
You can practice medicine there after getting a medical license from the Japanese government.
Like many countries, Japan requires doctors to continue professional development to stay current in medicine.
It takes you six years to complete your education and get your degree. Figure out if you can afford it or not. You might have to pay up to 5 million yen for yearly tuition. The living costs range from 150-200 thousand yen per month.
Japanese Universities Offer Medical Degrees
University of Tokyo
Tohoku University
Kyushu University
Kyoto University
Osaka University
University of Tsukuba
How to Prepare for the Japanese Board Examination?
It takes at least one year to prepare for this Japanese doctor examination. You have to cover and prepare 25 subjects. You can take two courses to prepare for the board examination: Med4 and Q-Assist. They are online courses that you can access from your home country. Their prices are not high, and you can afford it.
For the Type 1 questions, you have to work on your memorization. But for the Type 2 questions, clinical scenarios, reading skill, and judgment is essential. So, you need to understand the paragraph in Type 2 questions. You should also take mock exams. Two companies provide mock exams for board examinations:
MEC: Three mock exams per year
TECOM: Four mock exams per year
Both companies provide you with a detailed analysis of your exam. So you can know your weaknesses and work to improve them to pass the exam.
How Much Does It Cost to Study Medicine in Japan?
How much you must spend to get a medical degree in Japan depends on several factors. If you want to study in Japan for medicine, the tuition can go up to 1,100,000 yen at the undergraduate university level. There are also living costs that can range from 100.000-200.000 Yen.
Best Cities to Immigrate and Work in Japan as a Doctor 
These are the best cities in Japan. You might find many medical jobs in Japan in these cities:
Tokyo
Yokohama
Osaka
Nagoya
Sapporo
Does Japan Have English Speaking Doctors?
Yes, most of them have a basic understanding of English, but if you want to immigrate to Japan as a doctor, you must become fluent in Japanese.
How to Become a Doctor in Japan from India?
Becoming a doctor in Japan from India is lengthy and difficult. To practice medicine, one must first acquire a medical degree in India, usually an MBBS. After that, you'll need to become fluent in Japanese because of the language of instruction and patient care in Japan's medical system.
If one is available, take and succeed at a language test, such as the Japanese Language Proficiency Test (JLPT). The next step is to apply for and succeed in Japan's National Medical Practitioners Examination (NMPJE). Finally, look at residency training programs in Japan. However, these can be difficult to get into as a foreigner. Dedication, linguistic proficiency, and perseverance are essential on this route.
Immigrate to Japan as a Doctor: Let's Recap
Foreign doctors can move to Japan and immigrate and work in Japan as a doctor. You learned the steps to immigrate to Japan as a doctor. Also, you have answers to your questions, and every stage is explained in detail.
If you have questions, write them down in the comment section. The Visa Library team will answer them. You can find more information about Japanese visa types from the menu of the Visa Library.
FAQs
Can I work in Japan as a foreign doctor?
Yes, but you have to pass the stages explained in this article. Doctors from the US, the U.K., France, and Singapore can practice in Japan without a medical license. But their country must have an agreement with Japan, and these doctors can only see a patient from their home country, not foreign ones or Japanese patients.
Is Japan a good option for doctors?
Doctors are well paid in demand, and Japan is the third largest economy in the world. So you can say yes.
Can I practice medicine in Japan as a doctor?
If your country has an agreement with Japan, you can see patients from your home country in Japan but not people from other countries or Japanese patients.