Enter the land of smiles! Thailand's rich culture, beautiful landscapes, and growing healthcare sector offer professional and personal opportunities. In this comprehensive guide, we'll cover all the requirements and steps to immigrate to Thailand as a doctor. If you're a new doctor or an experienced one, this article will help you have a seamless transition.
Can Foreigners Work as a Doctor in Thailand?
Foreign doctors can work in Thailand, but they must undergo a lengthy process. They must have their medical qualifications recognized by the Thai Medical Council, pass the Thai Medical Licensing Examination, and get a work permit. The process is strict and difficult because Thailand prioritizes employment for its citizens. Foreign doctors often fill specialty gaps or work in high-demand medical fields.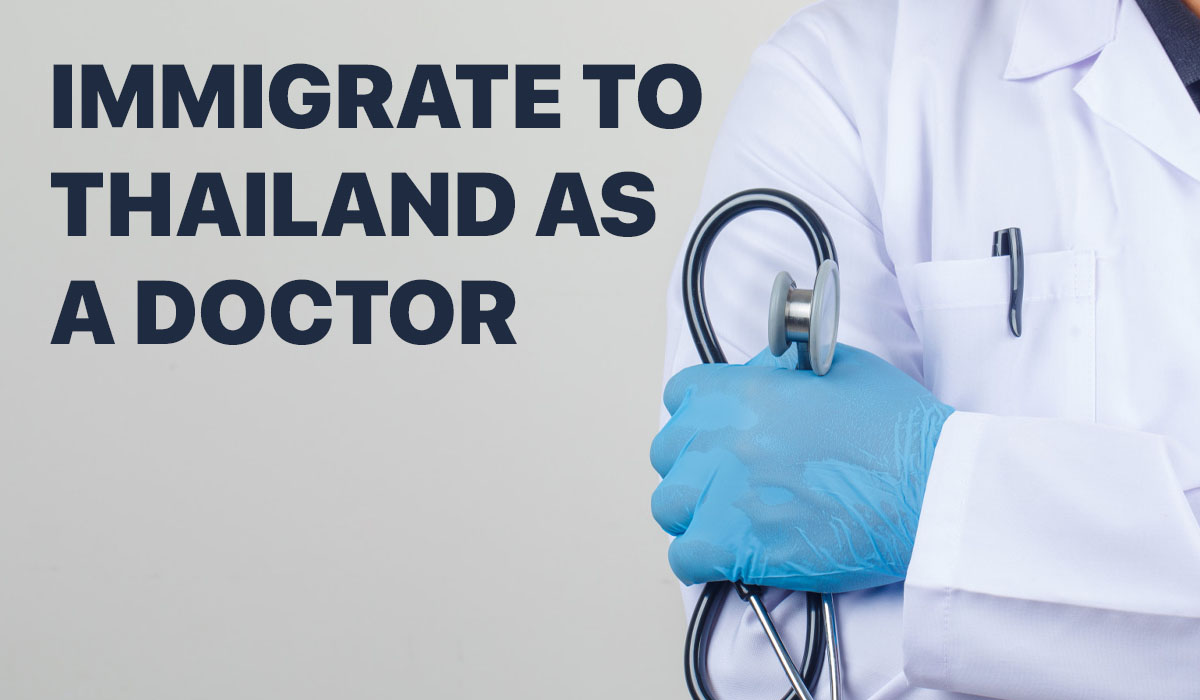 How to Immigrate to Thailand as a Doctor?
You must go through some steps to be able to immigrate to Thailand as a doctor. General process overview:
Step 1. Verify Your Qualifications
Recognition of foreign medical qualifications is the responsibility of the Thai Medical Council. The authenticity of your degree and qualifications must be verified and translated into Thai.
Required Qualifications and Medical Diplomas
A medical degree from an accredited institution (MBBS, MD, or equivalent)
If you plan on working in a specialized field, you may also need to prove that you have the appropriate certifications as a specialist or consultant.
Typically, employers seek candidates with at least a few years of relevant work experience after graduation.
You may need to present a letter of good standing from the medical council of the country where you are currently registered.
Process of Qualification Recognition
Get your medical license, transcripts, postgraduate certificates, professional experience certificates, and good standing certificates ready.
Accurate Thai translations of all documents are required. A certified translator or a translation service approved by the Thai government is typically required to complete the translation.
The Thailand Medical Council will need to check the legitimacy of your degrees. To do this, it may be necessary to contact the issuing organizations.
Medical licensing examination

Foreign medical school graduates who want to work in Thailand must take and pass the Foreign Medical Graduate Examination (FMGE).
The requirements of the Thai Medical Council, including an examination of your medical knowledge, must be met.
An evaluation of your practical abilities is also possible.

If you do well on the tests, you may be granted a short-term medical permit to work under close supervision.
You can apply to the Thailand Medical Council registration to practice independently after completing the supervised practice period, provided you meet all other requirements.
Exams in medical ethics and Thai medical law may also be required.
Step 2. Language Proficiency
While not mandatory, Thai language proficiency is recommended when interacting with patients and colleagues. Thai language proficiency tests may be required. The Sirindhorn Thai Language Institute of Chulalongkorn University organizes the Thai Proficiency Test. This is a general language test, not a medical one. Foreign doctors may have to take a Thai-language version of the Occupational English Test (OET) from the Thai Medical Council.
Step 3. Medical License and Registration
To immigrate to Thailand as a doctor, you must apply for a medical license from the Thai Medical Council. A typical process for obtaining a medical license and registering with the Medical Council of Thailand is as follows:
To practice medicine in Thailand, you'll need a degree from an institution approved by the Thai Medical Council.
The Thai Medical Council will require you to submit your credentials, such as your medical degree, transcripts, and other relevant qualifications. These documents may need to be translated into Thai and certified for authenticity.
You may need to pass the Thailand Medical Licensing Exam to determine if you have the necessary expertise to practice medicine in Thailand.
You should be able to demonstrate your command of the Thai language by passing a Thai language test if one is required.
You may be issued a temporary medical license to practice under close supervision if you do well on the exam.
To become fully registered, you must complete any necessary period of supervised practice and then meet all other criteria.
The Thai Medical Council will issue your medical license after you submit your application and pay any associated fees.
Participate in continuous professional development activities required by the Thai Medical Council to keep your license active.
Step 4. Secure a Job Offer
To immigrate to Thailand as a doctor, you must have a Thai healthcare job offer. Many Thai hospitals sponsor foreign doctors for work permits. The hiring hospital can handle work visa paperwork.
Thai hospitals like Bumrungrad International Hospital, Bangkok Hospital Group, Phyathai Hospitals Group, Siriraj Hospital, Chulalongkorn Hospital, and Samitivej Hospitals may hire foreign doctors. JobsDB Thailand, hospital career pages, LinkedIn, specialized medical recruitment agencies, and expatriate forums like InterNations can help find jobs and network.
Step 5. Obtain a Visa
To immigrate to Thailand as a doctor and get a Thai work visa, submit an application for a category "B" (business and work) Non-Immigrant Visa at your nearest Royal Thai Embassy or Consulate. Non-Immigrant Visa "B" for Thailand, required for medical professionals, can be obtained in the following ways:
To qualify for this visa, you must first have a job offer from a healthcare facility in Thailand, which will act as your sponsor.
The Thai consulate or embassy may ask to see your medical license, academic certificates, and health certificate in addition to your passport, job offer letter, and employment contract.
You can obtain visa applications from your local Royal Thai Embassy or Consulate. Include this form and the visa application fee in your submission.
Please be patient while we process your visa. The visa will allow a single entry and a stay of up to 90 days if granted.
Your Non-Immigrant "B" Visa will allow you to visit Thailand.
Step 6. Work Permit
Here are the standard procedures to obtain a work permit and immigrate to Thailand as a doctor:
Hold a job offer letter from a Thai company willing to act as your work permit sponsor.
Your employer will provide a letter of employment, financial statements, and other necessary paperwork. You may be asked to provide a clean criminal record check in addition to your academic credentials, resume, passport with a valid Non-Immigrant "B" visa, and medical certificate (typically stating that you are free of certain prohibited diseases).
Your company will submit your application for a work permit to the Thai Ministry of Labor on your behalf. Typically, this is completed after you have entered Thailand on a "B" non-immigrant visa.
Have a health check at the local hospital to prove you don't have any diseases listed in Thai law.
Wait while the employer processes and approves your work permit. This may take several weeks when you cannot start working.
After your application has been processed and approved, you or your employer can pick up your work permit book from the Ministry of Labor. You must carry it at all times during working hours and present it when necessary.
Now that you have the work permit, you can apply to the Thai Immigration Bureau to extend your Non-Immigrant "B" visa for another year.
Step 7. Healthcare Institution Licensing
Administrative steps for foreign doctors in Thailand's public hospitals might involve checking for reciprocal agreements with their home country. Thai ministries like the Ministry of Public Health must approve employment in these institutions. Foreign doctors may need additional exams or public healthcare provider qualifications. Foreign doctors may be restricted in location and regulations.
Private hospitals operate differently. Doctors must check that the private hospitals they join have Thai Ministry of Public Health health operation licenses. Private hospitals may recognize international qualifications, but the Thai Medical Council must verify foreign doctors. Private sector salaries and benefits may be better than public sector ones due to more negotiation. Before practicing, Thai doctors must be certified by the Thai Medical Council.
Note: To get a medical license in Thailand, you must have your medical qualifications recognized by the Thai Medical Council for public and private institutions.
Step 8. Professional Liability Insurance
After you immigrate to Thailand as a doctor and before starting a practice, it is wise to obtain professional liability insurance. AIA Thailand, Bupa Thailand, AXA Insurance Thailand, Thaivivat Insurance, and Dhipaya Insurance (TIP) are just a few of the well-known insurance companies in Thailand that offer professional liability insurance for doctors and other medical professionals. Doctors must have this insurance to protect themselves from claims of malpractice.
Step 9. Stay and Reporting Requirements
Certain immigration rules apply if you immigrate to Thailand as a doctor on a long-term visa.
90-Day Reporting. Thai immigration requires you to update your addresses every 90 days. Usually, you can do this in person at an immigration office, online, or by sending a certified letter.
Re-Entry Permit. A re-entry permit is required for you if you wish to leave Thailand and return later while still maintaining your long-term visa status. This is extremely important because it guarantees that your Thai visa and work permit will still be valid upon your return to the country.
How to Immigrate to Thailand as a Doctor from India?
To immigrate to Thailand as a doctor from India is no different from the process we just explained. Indian doctors must be certified by the Thai Medical Council to practice in Thailand. After that, they must work at a Thai medical center for a Non-Immigrant "B" visa. After entering, Indian doctors in Thailand need a work permit. Indian doctors should get professional liability insurance and a re-entry permit if they leave and return.
Thailand Medical Licensing Exam
The goals of the Thailand Medical Licensing Exam are to test candidates' ability to apply what they've learned in classes to real-world medical scenarios. The exam is in Thai, so test takers should be comfortable communicating in the language. Multiple times a year, the TMLE is administered at predetermined locations across Thailand. To start practicing medicine in Thailand, you must pass the Thai Medical Council's licensing exam. Checking the Thai Medical Council's website or the examination registration platform for the most up-to-date cost of taking the TMLE is recommended.
How Much Does a Doctor Make in Thailand?
The salary of doctors in Thailand varies depending on their specialty, years of experience, hospital type (public vs. private), and location. Specialists in private hospitals in Bangkok can earn up to 200,000 Baht per month, while general practitioners in Thailand can earn as little as 30,000. Leading private practice doctors and surgeons can earn more. Public hospitals and rural areas may have much lower salaries.
How Much Does an MBBS Doctor Make in Bangkok?
A Bangkok MBBS doctor makes 30,000 to 75,000 Thai Baht a month, and a specialist or experienced doctor may make more than 100,000 Thai Baht.
Do Doctors in Thailand Speak English?
Yes, many Thai doctors, especially those in private hospitals that treat international patients, speak English, particularly in urban areas and tourist destinations like Bangkok, Phuket, and Chiang Mai. Medical professionals' English proficiency can vary, and English-speaking doctors may be harder to find in remote areas.
How to Become a Doctor in Thailand?
If you want to become a doctor in Thailand, you have to:
Meet University Requirements. Make sure you get good grades in science in high school. A strong academic record is often required for Thai medical schools.
Pass University Admissions. To get into a Thai medical program, you'll need to pass both written and interview exams.
Complete a Medical Degree. You'll need to attend a 6-year medical school, which includes pre-med, clinical science, and internships.
Pass the Thai Medical Licensing Examination. To practice medicine in Thailand, you have to pass this exam.
Complete an Internship. Thai hospitals usually require an internship of one year.
Obtain a License. To become a doctor in Thailand, you have to get a license from the Thai Medical Council.
Language Proficiency. It's important to be fluent in Thai because medical courses are often in Thai.
Continuous Education. Depending on your specialty, there may be additional requirements for continuing education and examinations or certifications.
What Does It Take to Become a Doctor in Thailand?
You must complete a 6-year medical degree program, pass the Thai Medical Licensing Examination, and complete a 1-year internship to become a doctor in Thailand.
Immigrate to Thailand as a Doctor: Let's Recap
As a foreigner, working in Thailand as a doctor can be a rewarding experience because it provides opportunities for professional development and personal growth. You can make your dream of working as a doctor in the Land of Smiles come true if you follow the steps outlined in this guide and use them as a roadmap.
FAQS
Is Thailand good for medical?
Yes, Thai medical tourism is famous for its high-quality medical care, affordable prices, and well-equipped hospitals, especially in private ones.
Are doctors paid well in Thailand?
Thai doctors make a lot of money. The salaries of experienced specialists in private hospitals are often over 100,000 Thai Baht per month, not as high as in some Western countries.
Does Thailand have a medical visa?
You can enter Thailand for medical treatment with a medical visa (Non-Immigrant Visa category "MT").